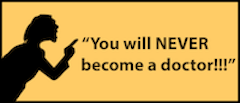 Proving the Doubters Wrong
When your not a great test taker and everyone around you is doubting you and saying that you wont make it... Do you listen to the crowd or find your own way to be successful?
Here's the success story of an Osteopathic Student (DO) who worked hard and made his own success!
Hey Dr. Barone!
So I feel like I'm one of those hardship cases. I was never a good test taker but I had a prior history of being a patient care tech at a ED and I am an EMT so I knew I worked well in the field. My undergrad health office said I would never become a doctor. Even my family always doubted me and told me that I should just give up and become a nurse. I was the very last one to be accepted into my medical school class from the waitlist and was called a day before white coat ceremony!!! I came into med school and did my best but I had trouble with the Board Exams:
COMLEX Level 1 : 450
COMLEX Level 2 : 400
Note: For those that are not familiar with the DO system, the COMLEX is the equivalent of the USMLE. The average score is usually in the 500-550 range.
I did well below average in the boards for level 1 and level 2

but I busted my butt during rotations and away rotations. Came in early, never late, read a lot, and stayed late. I adapted to people's critics of me and kept improving. Now I matched into my top speciality choice, Emergency Medicine.

I'm so grateful to match so I could prove to my family that I could make it because they always said I could never do it. I never gave up and anyone who wants to be a doctor should never give up!
B.S. March 2017
Dr. Barone: It's so easy to give up when everyone is doubting you and telling you that "you won't make it." It really takes a great effort to overcome and you did!!! You ROCK! What do you think made the difference in matching for you?
I matched in an Emergency Medicine Program where I had done an audition rotation. I feel that the connections I made working as a patient care tech was good but the audition rotation I feel sealed the deal. I worked hard, always knew every patient I carried and knew the labs before the attendings did so I could inform them!
I think that auditions are the key if you don't have connections. It really showcases your personality and that's huge in Emergency medicine. If you tell other students my story you should also include that I always worked hard towards my goal. As the fictional character from Suits, Harvey specter, says "I don't have dreams, I have goals". I think that really helped me keep that passion going and that anything is possible.
Category: Success