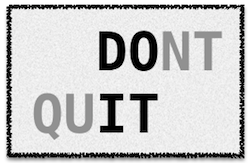 A Story of Perseverance
IMG
9-year gap
Mother of a young child
Low board scores (Step 1 203; Step 2CK 207, Step 3 196)
Didn't match 5 years ago!
Hello Dr. Barone,
I wanted to share my wife's success story with you:
She is from Paraguay, an older graduate IMG (graduated 9 years ago).
2008: Graduated, then came to the United States as a foreign exchange student, then started preparing for the USMLE:
2008-2010: Learned English in 6 months. It took her two years to prepare for Step 1, at the same time she was learning English and working on part time jobs, as a nanny! She got a 203 on Step 1.
2010: Step 2 CS - Passed on first attempt
2012: Step 2 CK = 207 Worked part time as a medical facilitator. Applied this to residency that year and had 5 interviews (3 for Psych, 1 for IM, 1 for FM) but did not match!

2013-2016: Our daughter was born in 2013, so a lot of juggling! She took her Step 3 in May of 2016 got a 196 (passed!). During these three years worked in Research (mainly as a volunteer) for 4 years at a University. She was able to publish 4 articles, a couple of manuscripts, and 5 poster presentations.
2016 application season: Applied to 30 Psychiatry programs 10 IM, got 3 interviews (1 IM) (2 Psych)
2017 Match: Matched in Psychiatry!!!!

This is a story of perseverance and never giving up even though life happens!
Best,
R. B. March 2017
Did she need a Visa?
Not for this match. However she did come on an student exchange visa, her sponsors (host parents, did the leg work for a green card for her). So for this Match no, she did not.
What interview questions did she get about her scores and how did she handle it?
The only time this came up was in the IM interview, "why such low scores" She said she was aware of this and that she had no excuses, that maybe her preparation was not as efficient, and that is why she was there to learn from them on what is the best method to prepare.
What does she think are the most important factors in matching this year?
Dr. Barone... You know those stories/advice, that you always bring up when you tell students to knock on doors at hospitals, get an ID from the hospital etc. Well something similar happened, she knocked on doors and got to be a volunteer research associate at a major University program. This gave her an email address that had a university domain @universitypsych.com The people who interviewed her saw that, which was brought up in her interview at one of the programs "you have a psych domain"!
Her experience with research got her publications and great LORs which really helped. The publications over the past 4 years she was able to have showed a loyalty/commitment towards the specialty. Again Dr. B, I've listened to what you have said over the years as to what a successful match is about..... the relationships that people need to build and "who can call/give testimony for you"! The head of the research lab that she worked at, wrote her an amazing LOR, this was also brought up at the program where she matched, "Go back and thank your research headmaster, she wrote an amazing letter for you"
The interview was also important. Because of her research work that was guided towards child and adolescence psychiatry, caught the curiosity/interest of the fellowship program director on this field, she said "we want someone like you in our program".
The actual PD liked her personal statement story about being from a small town in South America, quoting 100 years of solitude from Gabriel Garcia Marquez knocked it out of the park. The attending that interviewed her identified with her story making the attending cry about it.
She got into a program that some people don't rank high because it's in a small town, however it's a University Program with different specialties and fellowships.Thanks again to you Doc for all your advice! There is a reason why Barone Rocks!!

Category: Success