Zika Virus Questions and Answers
Here are some important questions and answers about Zika Virus:
1. What kind of virus is Zika virus?
Zika virus is a positive(+) sense, single-stranded RNA virus of the Flaviviridae family, genus Flavivirus.
It is an enveloped virus with an icosahedral nucleocapsid.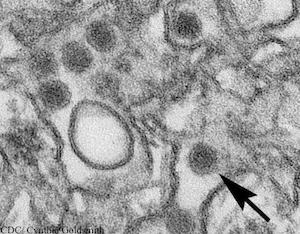 Transmission electron micrograph (TEM) with arrow showing a Zika virus particle with an outer envelope and an inner dense core.
---
2. How is it transmitted?
The primary route of transmission to humans is through the bite of an infected mosquito. (Aedes species)

Perinatal, in utero, sexual, and transfusion transmission events have also been reported.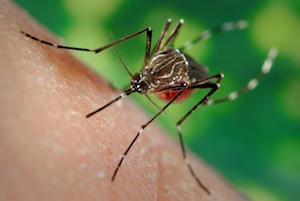 Note: The same Aedes species mosquito transmits dengue and chikungunya viruses.
---
3. What are the clinical symptoms?
Approximately 1 in 5 people infected with Zika virus become symptomatic. Clinical symptoms include the acute onset of :
Fever

Maculopapular rash that often starts on the face and then spreads to the body

Conjunctivitis

Arthralgia

Myalgia

Headache
Clinical illness is usually mild with symptoms lasting for several days to a week.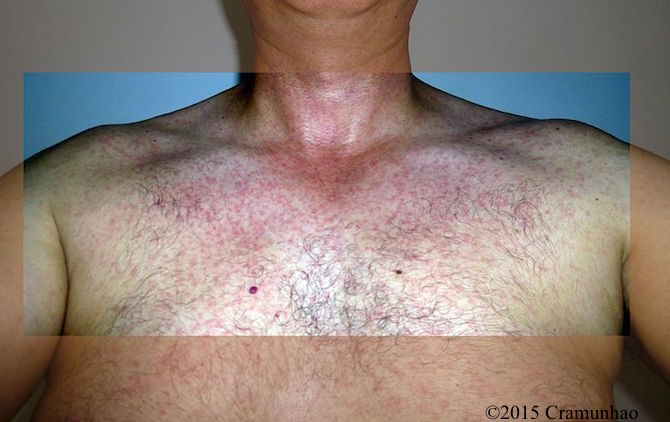 "Because of similar geographic distribution and symptoms, patients with suspected Zika virus infections also should be evaluated and managed for possible dengue or chikungunya virus infection. Aspirin and other non-steroidal anti-inflammatory drugs (NSAIDs) should be avoided until dengue can be ruled out to reduce the risk of hemorrhage." - CDC
---
4. What are some important suspected associations?
There have been reports of congenital microcephaly in babies of mothers who were infected with Zika virus while pregnant.
There may be an association with Guillain-Barré Syndrome.
---
5. How is Zika virus infection diagnosed?
Preliminary diagnosis is based on the patient's clinical findings, travel history, and activities.
Lab Diagnosis:
Zika virus RNA detected in an acutely ill patients serum by reverse transcriptase-polymerase chain reaction (RT-PCR).

Positive Zika virus IgM with confirmatory neutralizing antibody titers

Antibodies typically develop toward the end of the first week of illness

Cross-reaction with related flaviviruses (ie. dengue) is common
---
6. What is the current treatment?
Supportive.

No vaccinations are available yet.

Prevention by avoiding exposure to mosquitos.
---
7. Will it be on my exam?
This is the burning question for medical students. If it's in the news... it's sexy!

So there's a good chance you might run into a question on the exam.
So here's a summary of the most testable points:
Enveloped, iscosahedral, (+) sense, ssRNA virus.

Transmitted primarily by the same mosquitos that transmit dengue and chikungunya viruses.

Associated with congenital microcephaly!

Diagnosed by RT-PCR and/or serology.
---
Time for some fun:
Photo credits:
CDC/ Paul I. Howell, MPH; Prof. Frank Hadley Collins 2007 James Gathany

CDC/ Cynthia Goldsmith 2016
Category: Microbiology Mnemonics