Monster Mystery: Lake Monster or Infectious Disease?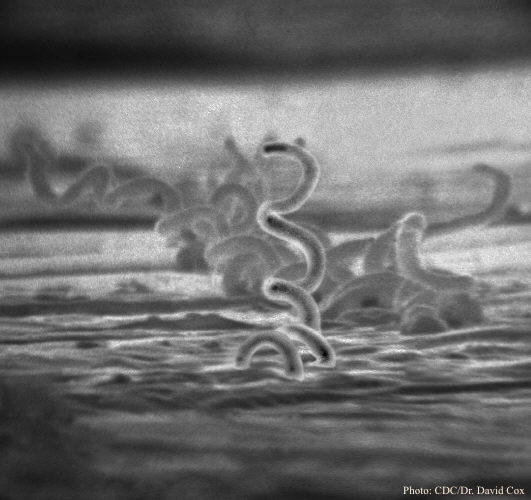 This is an electron microscopy of an infectious organism from a cell culture. Which of the following organisms is the most likely pictured in this photo?
Campylobacter jejuni

Corynebacterium diphtheriae

Ebola virus

The Loch Ness Monster

Treponema pallidum

Rhabdovirus
/
/
/
/
/
/
/
Scroll down for the Answer
/
/
/
/
/
/
/
/
Answer: E. Trepanema pallidum - a spiral bacterium (spirochete)
Campylobacter jejuni appear as curved or seagull-shaped rods.
Corynebacterium diphtheriae bacteria group together in the form of a letter "V", a palisade arrangement, or "Chinese letters".
Ebola virus - ebolavirus virions are filamentous particles that may may be coiled or branched and often appear in the shape of a either a shepherd's crook, the letter "U", or a number "6".
Treponema pallidum – spiral bacterium (spirochete)

The Lake Ness Monster – has a similar appearance to the picture but would not be seen on electron microscopy!

or at all, for that matter!

Rhabdovirus is a bullet-shaped negative(-) sense ssRNA virus.
Related Mnemonic: BaroneMnemonic: Syphilis
Photo Credit: CDC / Dr. David Cox
Category: Microbiology Mnemonics