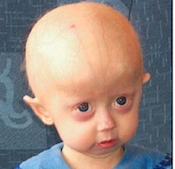 Hutchinson-Gilford Progeria Syndrome (HGPS)
Here are some testable points about Progeria!
Hutchinson-Gilford Progeria Syndrome (HGPS)
"pro" "geras" the Greek words for "before" "old age"
Very rare fatal genetic disease

Characterized by premature aging

Autosomal dominant point mutation in in the LMNA gene
Point mutation which produces an abnormal truncated version of lamin A protein called progerin.
Dominant Negative effect of mutant Lamin A protein (progerin) appears to destabilize the cell's nuclear membrane in a way that may be particularly harmful to tissues routinely subjected to intense physical force, such as the skin, cardiovascular, and musculoskeletal systems.
Caused by a single C => T substitution in the LMNA gene!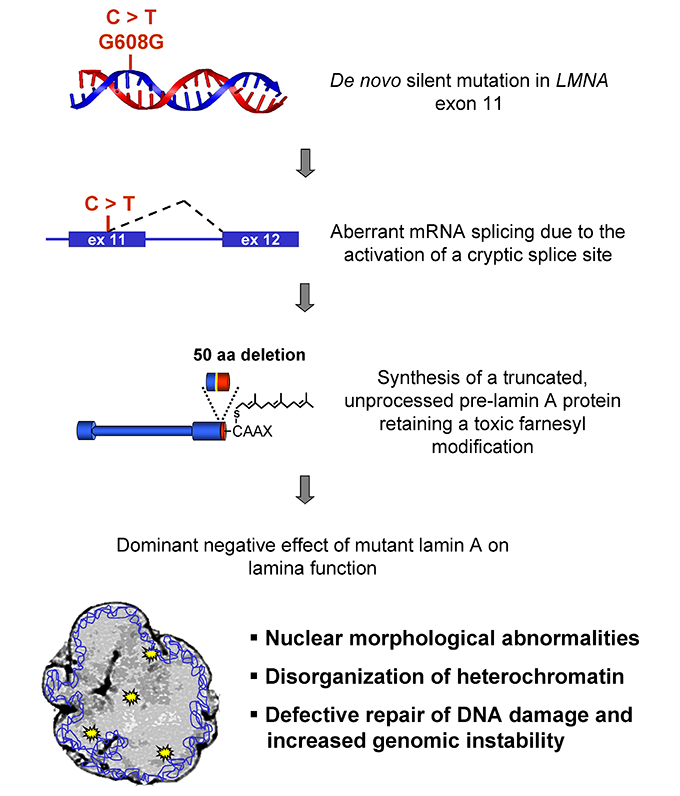 Genetic defect in Lamin A, a nuclear protein, leads to nuclear abnomalities seen below: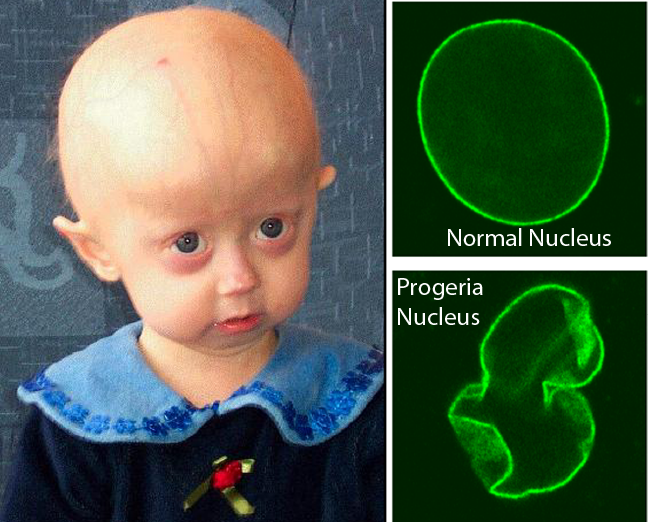 Click here for an excellent Video Explaining the Mechanism of Progeria!
Here are some videos of a patient living with this disorder:
Here's some key facts and a good video about happiness from a 17 year old adolescent with progeria:
Video Source: TedxMidAtlantic 2013
Photo Source: Scaffidi P, Gordon L, Misteli T (2005) The Cell Nucleus and Aging: Tantalizing Clues and Hopeful Promises. PLoS Biol 3(11): e395. doi:10.1371/journal.pbio.0030395
Category: Genetics Mnemonics