Be Obsessed With Your Dream
Here's some advice from a Caribbean Medical School Graduate who matched in Surgery in California!!!!
If there is one thing I have learned from my experience matching into a surgery residency in California it is this: Be obsessed with your dream, live it, breathe it, become it.
I started off applying to medical school wanting to go into surgery. Though I had a great GPA, my MCAT was not high enough after taking the exam 3 times; and 3 times I applied to medical school. After the first two tries I decided to take my talents to SGU. Knowing it was going to be difficult to match into surgery as an IMG, I continued to wake up every day and tell myself: you're a future surgeon! This was always on my mind whether I was on the island, studying for step 1, 2 or busy at the hospital during clinicals. In a way, you "fake it till you make it". In my case, it was act like a surgeon, until you become a surgeon. I believe this is the most important aspect of being a medical student; act like a doctor until you become a doctor.
In your personal statement, this is the time to show the program director and the rest of the faculty how your life experiences and traits fit into the field you are gunning for. I found it easiest to make a list of my characteristics that fit with the specialty and match them with life experiences, a special case seen at the hospital or hobbies. To make it even more interesting, tell it as a story and get the reader involved. For example, I took the reader through one of my marathons. From the training leading up to the race, mile 18-20 and the feeling of accomplishment crossing the finish line, the reader was able to grasp my characteristics that made me an excellent surgery resident. Lastly, finish with a STRONG conclusion, including your future goals after residency and how you would contribute to their program.
During the interview, show them your personality. Show them someone who is teachable and confident. Show them someone who is poised and composed under pressure. But most importantly show them someone that they would love to be working with for years to come!!! I found it very helpful to make power point slides. Each slide would be a potential question they can ask and I would take notes on the slide. This would keep things easily organized and you can always add or delete things according to each program and interview. Here's an example shown below: I put the possible interview question at the top and then I list my talking points that I would use to anwser the question on the interview: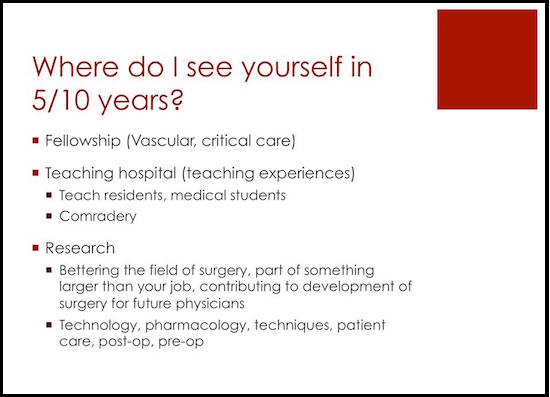 I hope when you guys read this you get some useful information about the personal statement and interview, but more importantly I hope you guys realize to always fight for that dream. With the right mindset and relentless determination, it doesn't matter what obstacles come your way. I got rejected from US medical schools 3 times and now in my 4th year at SGU, I matched into a California surgery residency. I know there are many people in the same circumstance. You're not sure whether you have another round left, but now I think to myself….what if I had quit that second time I applied?
BE OBSESSED WITH YOUR DREAM AND GO GET IT!
M. W. March 20, 2016
Category: Success