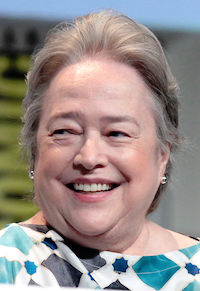 Pathology of the Stars: Kathy Bates
Academy award winning actress Kathy Bates is struggling with lymphedema of her upper extremiteis after bilateral mastectomy. She won the academy award for the movie Misery in 1990. She also had roles in Fried Green Tomatoes, Delores Clairborne, The Waterboy, American Horror Story, and she played 'Molly Brown' in Titanic.
Secondary (obstructive) Lymphedema is caused by the blockage of previously normal lymphatic channels. Lymphatic obstruction leads to edema because of decreased clearance of interstitial fluid. Persistant lymphedema can result in an increased deposition of connective tissue in the interstitium and in severe cases may cause elephantiasis.
Watch the video below to hear Kathy Bates discuss her struggles with lymphedema:
The major causes of secondary lymphedema include:
Surgical lymph node excision (ie. axillary dissection for breast cancer)
Obstruction by malignant tumor (ie.Peau d' orange appearance of the skin in Inflammatory breast cancer)
Filiariasis induced scarring of lymphatics
Radiation induced scarring of lymphatics
Postinflammatory scarring of lymphatics
Staging
Stage 1 Spontaneous reversible (pitting)
Stage 2 Spontaneous irreversible (non-pitting and fibrosis)
Stage 3 Lymphostatic elephantiasis (fibrotic)
Treatments
Compression: Garments and Bandages
Compression: Lymphatic massage
Exercise
Surgery
Photo Credit By Gage Skidmore, CC BY-SA 3.0
Category: Pathology of the Stars