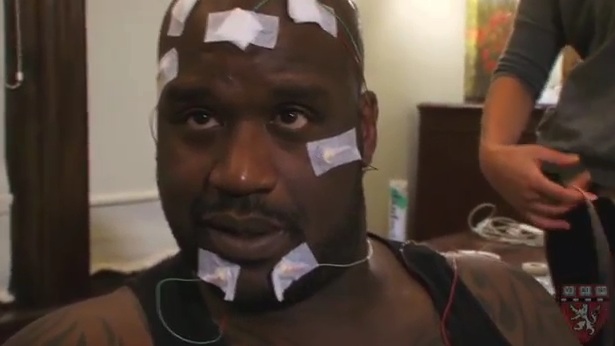 Watch Video (4 minutes)

How do you make the diagnosis of Sleep Apnea?
Clinical symptoms and polysomnogram ("sleep study").
What are the cardinal clinical symptoms of sleep apnea?

What is the most common form?
Obstructive sleep apnea.
What are some of the physiologic effects?
1. Chronic hypoxic pulmonary vasoconstriction leading to:
=> Pulmonary hypertension
=> right ventricular hypertrophy, seen as a right-axis deviation on EKG
=> cor pulmonale
2. Hypoxemia (low arterial PO2), which causes
=> renal release of erythropoietin
=> Polycythemia
3. Repeated arousals interferes with REM sleep
=> Excessive daytime sleepiness (hypersomnolence)
=> Decreased attentiveness and concentration
=> Increased risk of work-related and motor vehicle accidents
What are some treatments for obstructive sleep apnea?
1. Lifestyle modifications
Weight loss

Sleeping on the side

Avoiding alcohol, sleeping medications, and muscle relaxants

Smoking cessation.
2. Oral appliances = a custom-fit mouthpiece to maintain airway patency
3. Continuous positive airway pressure (CPAP)
Most common treatment for moderate to severe sleep apnea.
4. Surgical procedures
What is a major side effect of sleep apnea in basketball players such as Shaq?
Clearly it must be the inability to make free throws!



Video Source: Harvard Medical School
Copyright (c) 2011 John Barone MD. All rights reserved.
Category: Pathology of the Stars