The Coagulation Kid by Leo Angel (Age 6)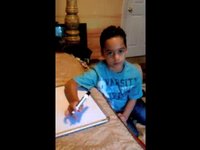 Even 6 year old Angel knows the Clotting Cascade! A future hematologist in the making!!!

Mom: What happens if there is something wrong with the 13?
Angel: Nothing.
Mom: Why?
Angel: Because it's not over here!
Thanks to Leo Angel and Yvonne Jeannotte MD
Copyright (c) 2011 John Barone MD. All rights reserved.
Category: Hematology Mnemonics