Stages of a Contusion (Bruise)
Can you tell me why you get the different color changes of a bruise?
Contusions
Due to blunt force trauma.
Characterized by extravasation of blood into the soft tissues.
May reproduce the pattern of the object striking the skin.
Typically have unbroken skin.
Can only occur in a living person because there is a lack of circulation postmortum.
When small we call them petechiae and eccyhmosis if larger.
If palpable we call it a hematoma.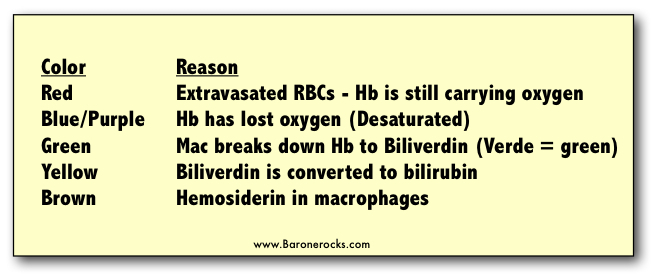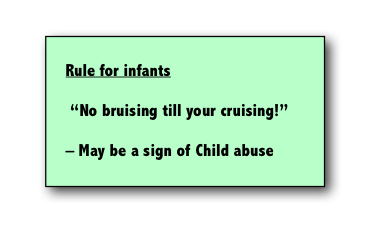 Note: Time Frame is quite variable and not very reliable but the sequence of color changes and what they represent is testable!
Source: https://www.ncjrs.gov/html/ojjdp/portable_guides/abuse/bruises.html
Copyright ©2013 Thunderpath Media Inc.
Category: Pathology Mnemonics