Sturge Weber Syndrome
Sturge Weber Syndrome is a neurocutaneous syndrome (Phakomatosis) that is caused by a sporadic congenital error in the development of the ectoderm (skin and CNS) and mesoderm (blood vessels) resulting in angiomas of the face and brain.
Characteristic features include:
Port wine stain (nevus flammeus) located on the face in the trigeminal nerve distribution
Ipsilateral leptomeningeal angiomas =>

"tram track" calcifications

on CT scan
Seizures
intellectual disability
increased risk of glaucoma
A genetic somatic activating mutation in the GNAQ gene during fetal development has been found to cause both port wine stains (a common congenital malformation) and the Sturge Weber Syndrome.
GNAQ gene codes for a Gq protein that is associated with G-protein coupled receptors and can activate phospholipase C.
A somatic mutation during development explains the fact that these disorders occur sporadically and are not inherited!
---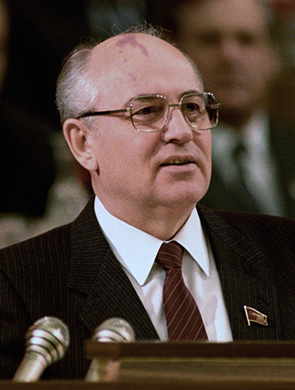 Port-wine stain (nevus flammeus)
Pathology of the Stars:
Former President of the Soviet Union, Mikhail Gorbachev has a port-wine stain (nevus flammeus) on his forhead.
Note: He does NOT have Sturge Weber sydrome.
Photo Attribution: RIA Novosti archive, image #850809 / Vladimir Vyatkin / CC-BY-SA 3.0
Category: Genetics Mnemonics